It may be tricky for you to tell when your child has ingested a poisonous substance, especially if your child is not yet speaking. Pay close attention to signs of poisoning. Your child may have ingested a poison if:
She can't follow you with her eyes, or her eyes go around in circles.
She is sleepy before it's nap time or bedtime.
She suddenly throws up.
She has burns around the lips and mouth.
She has stains around the lips and mouth.
Her breath suddenly smells foul.
Also, look for signs that your child may have gotten into a poisonous substance, like an open container within her reach, or an opened or spilled bottle of pills.
From Good Kids, Bad Habits: The RealAge Guide to Raising Healthy Children by Jennifer Trachtenberg.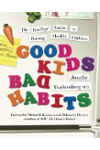 Continue Learning about Poisoning