Concern about radiation exposure from medical tests is appropriate. While an imaging study is generally safe, it is not entirely without risk -- and not always needed to make a diagnosis. Your doctor will weigh the risks of the study against the benefits it will provide. For example, if a young man presents with the typical signs and symptoms of appendicitis, a CT of the abdomen is not necessary to make the diagnosis. On the other hand, a much older person with similar symptoms could have a variety of other diseases and may benefit from a CT of the abdomen.

More is not better; radiation accumulates in our body and can have negative health effects decades later. So question the need for an imaging study if you are not convinced of its merit.

Ultrasound imaging, another medical imaging technique used to visualize muscles, tendons and internal organs, allows recognition of size, structure and any abnormal (pathological) lesions. No radiation is involved. This type of imaging uses sound waves and is safe.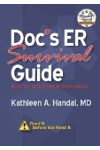 More About this Book
Doc's ER Survival Guide (DocHandal's Guides)
Few people get through life without at least one trip to the emergency room (ER), either as a patient or support person for a family member or friend. Doc's ER Survival Guide is designed to help...
Continue Learning about Poisoning