You can keep medication safe from your children by doing the following:
Close medicine containers immediately after using them. Put them away, out of the reach of children of all ages.
Keep medicines in their original containers.
Keep medicines out of sight of children.
Don't set medicines on a countertop or bedside table.
If a medication has expired, throw it away.
From Good Kids, Bad Habits: The RealAge Guide to Raising Healthy Children by Jennifer Trachtenberg.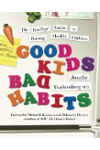 Here's what you can do to make sure that your children cannot get into any medicines:
To prevent medicine poisoning, store medicines up, away and out of sight: When you're storing over-the-counter (OTC) and prescription medicines and vitamins and supplements, select a spot that's high and out of reach of children. Safe storage applies to both adult and children's medicines.
Be aware of how and where children get into medicines: Kids get into medicines in many places, such as in purses and bags and on counters and nightstands. In more than half of poisoning cases, the medicine was within reach of the child, reports Safe Kids Worldwide.
Safely store products like diaper rash remedies, vitamins or eyedrops that you might not think of as medicine. Many parents understand the importance of storing medicines up and away, but may not safely store products that they might not think of as medicines.
When you have visitors, consider the medicines they might be bringing into the home. Guests may not think about what's in their purse or other bags, so offer to secure any of their bags that may contain medicines. In nearly half of cases, the medicine a child gets into belonged to a relative.
As soon as you finish administering medicine, replace the cap tightly. Buy medicines with child-resistant packaging if possible, but remember, child-resistant does not mean childproof. Curious children may be able to get into medicine, so always return medicine to an up-and-away location after every use.
Clean out your medicine cabinet. Dispose of all expired and unnecessary medications regularly. To learn safe ways to dispose of your medicines, visit the Food and Drug Administration's guidelines for medicine disposal, read the Drug Enforcement Administration's information on the National Take-Back Initiative or call your poison center at 1-800-222-1222.
Continue Learning about Poisoning