Well, if a child consumes the recommended dosage for age (and weight), then the short answer is "no". Vitamin/mineral supplements that contain iron, however, can be toxic to a child if consumed in larger doses than what is recommended. Also, any supplement that is consumed in large amounts than what is recommended (Vitamin A, for example) is not appropriate. Sometimes adults may believe that more is better (healthier) for vitamins, minerals, herbs, etc., but actually our bodies our designed to absorb certain amounts of each vitamin and mineral. Choose a pediatric supplement that contains the USP symbol, which means the United States Pharmacopeia has approved the supplement for safety.
Many parents don't realize that one of the most common sources of poisoning in the home is something you and your children ingest every day: Vitamins. Vitamins containing iron are responsible for 30 percent of children's deaths from poisoning. So, be sure to keep all vitamins out of children's reach and never refer to them as "candy." Young children might think it's okay to eat a handful brightly colored cartoon-shaped or gummy bear vitamins -- and this could have fatal consequences.
From Good Kids, Bad Habits: The RealAge Guide to Raising Healthy Children by Jennifer Trachtenberg.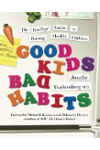 Continue Learning about Poisoning