Chlordane, a highly toxic pesticide, was for decades the chemical of choice for termite control. Exterminators drilled holes around the foundation of a house and filled the holes with this chlorinated pesticide. The resulting levels of chlordane in homes were high enough to contaminate the homes and cause long-term health concerns -- including cancer.

Chlordane is still measurable at high levels in some homes as long as 35 years after it was applied. If you are buying a home that is more than 10 years old, inquire very carefully as to whether chlordane was ever used in the home. If in doubt, have the house tested for chlordane via a simple air test (contact your state or local health department for recommendations about contractors qualified to perform the test).

Although chlordane was banned in the 1980s, some exterminators still have chlordane in stock. So if you're having your home treated for termites, make sure chlordane won't be used.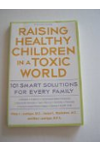 Continue Learning about Pesticides