Pesticide residue levels in food are monitored by both state and federal regulatory agencies. Monitoring has been used to enforce legal tolerance levels. However, there has been increasing public and governmental concern of the adequacy of the residue-monitoring programs.
In theory, here is how the monitoring system is designed to work: The EPA establishes a tolerance level for pesticides in raw or unprocessed foods utilizing available data. The Food and Drug Administration (FDA) is then responsible for enforcing the EPA limits. Individual state organizations, such as departments of health and agriculture, may also be involved in the monitoring of food safety. However, this system falls short not simply in the determination of the tolerance levels. The facts are that (1) probably less than one percent of our domestic food supply is screened by the FDA; (2) the FDA does not test for all pesticides; and (3) the FDA does not prevent the marketing of the foods that it finds contain illegal residues.
A number of pesticide poisoning epidemics have been reported over the years. The largest to date occurred in 1985. It involved the use of aldicarb, an extremely toxic pesticide, and its illegal use on watermelons. Aldicarb is a systemic pesticide, which means that it permeates the entire fruit. More than one thousand people in the western U.S. and Canada were affected by it. Illness ranged from mild gastrointestinal upset to severe poisoning that included vomiting, diarrhea, blurred vision, tremors, convulsions, and nerve damage.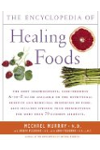 More About this Book
Encyclopedia of Healing Foods
From the bestselling authors of The Encyclopedia of Natural Medicine, the most comprehensive and practical guide available to the nutritional benefits and medicinal properties of virtually everything...
In a perfect world, pesticides would be nonexistent, but unfortunately they're not. In this video, pediatrician Dr. Alan Greene explains how pesticide residue levels are monitored and how they can differ between regular and organic foods.
Continue Learning about Pesticides