Your symptoms sound like plantar fasciitis.
The plantar fascia is a tough band of tissue. It runs from the heel along the sole of the foot toward the toes. This common and painful condition is due to tears and inflammation of the plantar fascia. People usually complain of pain when they walk, especially after a period of rest.
Although this often occurs without any other associated condition, it is more common in people who are overweight, have flat feet, or after periods of prolonged standing, jumping or running. There is also an association between plantar fasciitis and diabetes.
The only way to know you have plantar fasciitis is to see your doctor. X-rays and blood tests are usually not helpful in diagnosing this condition.
Treatment options include:
rest
a change in activities
a change in the type of shoes
physical therapy (which may include stretching, exercises, or ice massage)
arch supports (especially if you have flat feet)
anti-inflammatory drugs, such as ibuprofen or naproxen
weight loss (this may reduce the chance that plantar fasciitis will return)
good control of diabetes (although the effect of this on plantar fasciitis is uncertain)
Overall, these measures are quite successful. See a podiatrist or an orthopedist for cases that do not respond quickly. Other treatments may include:
prescription footwear
a cast
shoe inserts
cortisone injections
surgery (rarely)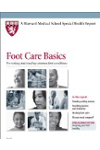 Continue Learning about Plantar Fasciitis