If you have difficulty walking very far or if you use a walker or wheelchair, call ahead to restaurants, theaters and other venues before you leave home to ask if they are accessible. Ask about parking facilities, where the restrooms are located, the most convenient entrance and so on.

Choose quieter places to spend your time out. Noisy environments can add undue stress and deplete you of energy. Look for restaurants with drapes, low ceilings and carpeted or vinyl floors. Avoid establishments with wooden floors, loud music, multiple TVs or high unfinished ceilings. As a safeguard, carry earplugs in your purse or pocket.

Choose well-lit restaurants. Restaurants with dim or subdued lighting make it difficult to walk across the room, read the menu or even communicate with dinner companions.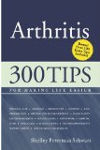 More About this Book
Arthritis
Arthritis: 300 Tips for Making Life Easier is a compendium of tips, techniques, and life-task shortcuts all learned from personal experience. Author Shelley Peterman Schwarz has lived with a chronic...
Continue Learning about Physical Disabilities