The treatment for flaccid paralysis varies according to what causes it. If the underlying condition has been treated, generally, physical therapy can be provided to help patients regain muscle strength. Supportive care is given to help people cope with the illness and to manage their symptoms.
Continue Learning about Physical Disabilities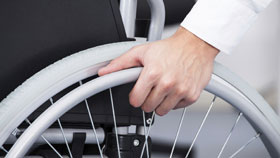 Physical disabilities can be sensory, where there are problems with sight, hearing or speech, or they may impair motor function, so that movement is restricted or imprecise. Injuries may cause a disability, and disease such as a h...
eart condition may also make normal exertion impossible. Some disabilities start at birth - congenital disabilities. Others are acquired during life. If you have a disability, it is almost certain that there are many others who do also. Most conditions have support groups or associations that have grown up relating to the problem. These groups may offer specialized help to minimize the effect of the condition.
More