Most disability scales used in the United States today only measure physical impairment and the ability to walk. The most widely used scale in multiple sclerosis (MS) is the Kurtzke Disability Status Scale (DSS) (Kurtzke, 1961), which measures ten levels of impairment. (In 1983, the Kurtzke DSS was updated by adding 0.5 grades, making twenty steps in all.)
The primary benefit of the DSS lies in measuring disability during clinical studies. Although this scale is not perfect, and scientists continue to seek better ways, it serves as an accepted standard in testing treatments and therapies. The scale is as follows:
No disability, minimal signs (Babinski, minimal finger-to-nose ataxia, diminished vibration sense).
Minimal disability (slight weakness or stiffness, mild disturbance of gait or mild visuomotor disturbances).
Moderate disability (monoparesis, mild hemiparesis, moderate ataxia, disturbing sensory loss, or prominent urinary or eye symptoms, or combinations of lesser dysfunctions).
Relatively severe disability not preventing ability to work or carry on normal activities of living, excluding sexual dysfunction. This includes the ability to be up and about twelve hours a day.
Disability severe enough to preclude working, with maximal motor function walking unaided up to 500 meters.
Assistance (canes, crutches, braces) required for walking.
Confined to wheelchair (able to wheel self and enter and leave chair alone).
Confined to bed but with effective use of arms.
Totally helpless, bedridden patients.
Death due to multiple sclerosis.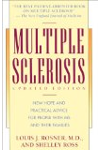 More About this Book
Multiple Sclerosis
Too often, multiple sclerosis is thought of only as "the crippler of young adults." But in fact, 75 percent of all people with MS will never need a wheelchair. In Multiple Sclerosis, Dr. Louis J....
Continue Learning about Physical Disabilities