Let the doctor's office know that you use special handicapped transportation to medical or dental appointments. Most people don't realize that special transportation often must be scheduled 24 hours in advance, and you must include not only when you need to be delivered but also when you need to be picked up from your appointment. Let the scheduler know how important having an on-time appointment is, and ask them to call you as soon as they are aware that the doctor (or dentist) is running late so that you can try to adjust your transportation arrangements.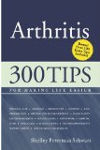 More About this Book
Arthritis
Arthritis: 300 Tips for Making Life Easier is a compendium of tips, techniques, and life-task shortcuts all learned from personal experience. Author Shelley Peterman Schwarz has lived with a chronic...
Continue Learning about Physical Disabilities