The laws require that employers try to reasonably accommodate people with disabilities. Reasonable accommodation is defined as modification or adjustment of a job or employment practice in order to make it possible for a qualified person with a disability to be employed.
For people with diabetes, employers may have to allow workers to adjust their work schedule or take breaks to eat or check blood glucose so that they can manage their diabetes while on the job.
People with complications from diabetes might need other accommodations, such as a large-screen computer for those with retinopathy or the ability to sit on the job for those with painful neuropathy. The employer must make these accommodations available unless they create an undue burden because of cost or other factors.


Continue Learning about Physical Disabilities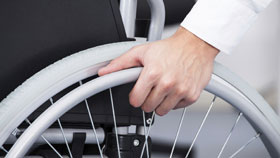 Physical disabilities can be sensory, where there are problems with sight, hearing or speech, or they may impair motor function, so that movement is restricted or imprecise. Injuries may cause a disability, and disease such as a h...
eart condition may also make normal exertion impossible. Some disabilities start at birth - congenital disabilities. Others are acquired during life. If you have a disability, it is almost certain that there are many others who do also. Most conditions have support groups or associations that have grown up relating to the problem. These groups may offer specialized help to minimize the effect of the condition.
More