Do your banking from home:
Bank by mail. Ask the bank for stamped, self-addressed envelopes for mailing deposits and payments. Have the bank process your transactions and return the receipts to you or track them online. If possible, arrange for your checks to be automatically deposited to your account.
Ask about bill-paying assistance. Some banks will send a representative to your home to help you with your bill paying and record keeping.
Pay household bills electronically. Set up payments once and each month, utility, credit card and other bill payments will be automatically deducted from your account. You'll receive documentation of the transactions.
Bank online, where you can check deposits, authorize payments and track all activity on your account any time, day or night. With a few clicks of a mouse, your bills are paid and the bank does the rest. Shop around and choose a bank that offers the services you need at little or no cost to you.
File an absentee ballot to avoid leaving home to vote. Contact the city clerk in your area for a permanent absentee ballot. You will receive a ballot several weeks before each election, and then cast your vote by mail.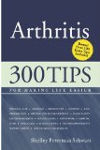 More About this Book
Arthritis
Arthritis: 300 Tips for Making Life Easier is a compendium of tips, techniques, and life-task shortcuts all learned from personal experience. Author Shelley Peterman Schwarz has lived with a chronic...
Continue Learning about Physical Disabilities