Leaving the comforts of home for an extended vacation or a day trip to meet friends can sometimes present obstacles and challenges, yet it's vitally important to your physical, mental and emotional health that you stay active and connected to people and places near and far. With a little extra planning and preparation, you can reduce the stress and energy needed to solve problems and inconveniences. These tips will give you a good start.
Use a travel club or the Internet to make traveling easier. Do your research and planning online or let someone else do it for you. Specialized travel agencies are helpful when choosing unfamiliar or foreign destinations, when you have complicated arrangements or restrictions or mobility and energy concerns. To be prepared for most situations, seek out information in the following areas:
weather
what to pack
driving: road conditions; construction and detours; rest stop locations and accessibility
air travel: reservations; on-plane special needs including seating location and selection, meal options, service animals, wheelchair access, security and medically related concerns and airport services and assistance
accessibility issues: hotel accommodations and services; transportation; points of interests; and restaurants and restroom access
Once your arrangements are complete and you leave for your getaway, accept that obstacles, delays, glitches and surprises will occur. Chose to accept them in the spirit of adventure.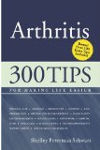 More About this Book
Arthritis
Arthritis: 300 Tips for Making Life Easier is a compendium of tips, techniques, and life-task shortcuts all learned from personal experience. Author Shelley Peterman Schwarz has lived with a chronic...
Continue Learning about Physical Disabilities