If you need extra time to get to the door to greet visitors, consider installing an electronic driveway sensor that will sound a chime and flash to alert you when a car approaches. For added security, an optional lamp controller will turn on a light or radio. Set the driveway sensor to open a door or gate or perform different functions based on whether a car is arriving or departing. The remote-controlled device has a 1,000-foot range that will work even in long driveways.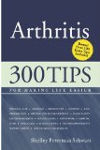 More About this Book
Arthritis
Arthritis: 300 Tips for Making Life Easier is a compendium of tips, techniques, and life-task shortcuts all learned from personal experience. Author Shelley Peterman Schwarz has lived with a chronic...
Continue Learning about Physical Disabilities