Install turning automotive seating, if you use a wheelchair or scooter in your vehicle. The seat, which comes in several models, some utilizing or matching existing seating, can be installed in many types and brands of vehicles, including sedans, SUVs, wagons, crossovers, minivans, pickup trucks and full-size vans. Hand controls allow you to pivot and lower the seat to your level, making transferring easier. A companion lift can pick up your wheelchair and load it in and out of your vehicle; one model even converts into a wheelchair, making the lift unnecessary. Check with your dealer about compatibility with your auto, van or truck.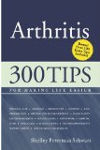 More About this Book
Arthritis
Arthritis: 300 Tips for Making Life Easier is a compendium of tips, techniques, and life-task shortcuts all learned from personal experience. Author Shelley Peterman Schwarz has lived with a chronic...
Continue Learning about Physical Disabilities