Purchase tickets and gift certificates online. Use your computer or phone to purchase tickets to plays, concerts and movies; dinner reservations; or gift certificates to restaurants. Charge to a credit or debit card and have the certificates or tickets mailed to your home. While online, check out seating and menus.

If you have difficulty walking very far or if you use a walker or wheelchair, call ahead to restaurants, theaters and other venues before you leave home to ask if they are accessible. Ask about parking facilities, where the restrooms are located, the most convenient entrance and so on.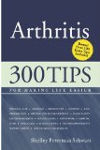 More About this Book
Arthritis
Arthritis: 300 Tips for Making Life Easier is a compendium of tips, techniques, and life-task shortcuts all learned from personal experience. Author Shelley Peterman Schwarz has lived with a chronic...
Continue Learning about Physical Disabilities