Kurtzke Disability Status Scale (DSS) clearly has its shortcomings. First, some read it to suggest a typical progression of the disease from number 1 to 2, then 2 to 3, and so on to death. Also, there are many exceptions to the scale. For example, many people who require a cane for walking may be active and working and only have a mild disability, yet their 6 DSS rating doesn't accurately reflect this.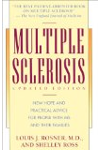 More About this Book
Multiple Sclerosis
Too often, multiple sclerosis is thought of only as "the crippler of young adults." But in fact, 75 percent of all people with MS will never need a wheelchair. In Multiple Sclerosis, Dr. Louis J....
Continue Learning about Physical Disabilities