Since the statins are relatively new (under twelve years of widespread use), we do not know whether they have negative effects when used over a long period. For example, do they accelerate aging? The longest running study lasted only six years. Although not conclusive, the data strongly suggest that statins greatly and substantially retard arterial aging. As well as normalizing cholesterol values, they somehow inhibit plaque buildup, even when a person has a normal cholesterol value. The statins inhibit inflammation of and plaque buildup on the valves in the heart, so those people who have bicuspid aortic valves should perhaps take a statin routinely as a preventative measure. (Bicuspid aortic valves have two flaps instead of the usual three, a congenital defect that may lead to damage to the heart in your 60's and beyond.) Talk to your doctor about this. Also, statins decrease inflammation in your arteries, not just on your valves. If a patient cannot bring his or her inflammation number (the high-sensitivity C-reactive protein reading) into the normal range through exercise, drinking wine, and treating any chronic infections, a small dose of statins can often do the trick. New data also show that statins may inhibit all processes of arterial aging, thus leading to fewer heart attacks and strokes and less memory loss, impotence, and wrinkling of the skin.

We always thought that statins worked by increasing the number of low-density lipoprotein (LDL) receptors in the liver. This would help the body detoxify the bad cholesterol. However, we now know that the statins also inhibit the synthesis of LDL cholesterol.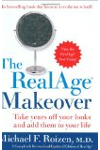 They're no Fountain of Youth, but statins may have anti-aging properties. Cancer specialist and author Dr. David Agus talks about how statins can keep you younger longer.
Continue Learning about Pharmacology