A rare, but treatable, condition called Peyronie's disease can result from the build-up of fibrous tissue called plaque inside the penis, which leads to painful erections and a curvature of the penis. Peyronie's is not noticeable when a man is flaccid, but shows up when he gets an erection because the scar tissue doesn't stretch with the rest of the tissues. Sometimes Peyronie's may resolve on its own over time as the body reabsorbs the scar tissue and it softens. Other times, it may require treatment with injections or other medications, depending on the severity. Regardless, a man with Peyronie's should see a urologist regularly.
Peyronie's disease is a relatively rare condition in which an inflammation within the penis causes scarring. This leads to a curvature, causing painful erections. The bending of the penis can also interfere with sexual activity.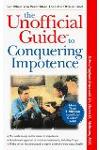 More About this Book
Unofficial Guide to Impotence
The Unofficial Guide to Conquering Impotence delivers the inside scoop on impotence: the truth about Viagra, what treatments really work, and how lifestyle changes can aid in conquering...
An erect penis is normally ruler-straight, but it's not uncommon for an erection to have some degree of bend, or twist. If the bend is extreme, causes pain, or makes intercourse impossible, then the condition is called Peyronie's disease, after François Gigot de la Peyronie, the French surgeon who first described the disease in 1743.

With Peyronie's, the penis typically curves sharply upward when erect, giving it a hook-like appearance, though curves in other directions are also seen. The immediate cause of the curvature is the development of small, hard, patches on the penis called plaques. These plaques don't expand the same way that the rest of the penis does. When the penis is limp, you don't notice. But when the penis "inflates" during an erection, the stiff plaques force the penis to bend. The plaques themselves are not harmful or contagious in any way. But the penile bending they produce can cause a good deal of consternation, for both a man and his partner.
Continue Learning about Peyronies Disease & Penis Disorders