A friend and highly respected teacher of mine, Brugh Joy, M.D., notes that "the tension of opposites creates!" This statement recognizes that our psyches are constantly growing.
If we have a conflict that we cannot reconcile at our current level of consciousness or growth, we have an option other than burying the conflict and sapping our energy to keep it unconscious. We can simply stay conscious of the conflict and recognize that we do not yet have a solution to it at our current level of growth.
The interesting thing is that you may find that it is perfectly okay to simply recognize that there is not a ready solution to the conflict. Many times there is no real choice that has to be made at this time. If there is, simply continue to feel your way through them when they have to be made.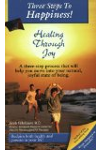 More About this Book
Three Steps to Happiness! Healing Through Joy
Happiness is our natural state of being. It is who we are. This happiness is obvious when you look at little children before they take on society's beliefs. Their natural state is to feel all of...
Continue Learning about Personality