Self-image is closely connected to self-esteem, and we know the high cost a person pays when self-esteem is lost. Children who sit in the back row in grade school and avoid the teacher's eye don't usually grow up to discuss foreign policy or medieval art because their self-image incorporated a sense of inadequacy early on. Conversely, studies have shown that if a teacher is told a particular student is exceptionally bright, that student will perform much better in class, even if the selection was random: Low IQ kids can achieve beyond high IQ kids with enough approval from their teachers. The image set in the teacher's mind is enough to turn a poor performer into a sterling one.
I have many women friends in their fifties who look better now than they looked in their forties. Yes, they take care of themselves. But truly, the main change is an inner one. If power, as Henry Kissinger suggested, is the ultimate aphrodisiac for women, confidence is a great aphrodisiac for men. The French even have a phrase for it: jolie laide. Women described as jolie laide are not classically beautiful, but they radiate a kind of magnetism that goes beyond their specific features.
As fashion reporter Karen Burshtein writes: "The term translates literally as 'pretty ugly' but could more charitably be rendered as 'oddly beautiful.' The jolie laide represents an idea of beauty wherein a hint of imperfection enhances a woman's appearance and makes her more interesting to look at. . . . In the end, she is more alluring, more captivating, than a conventional beauty."
Indeed, in an Allure magazine survey on attitudes about beauty, men and women both ranked Oprah Winfrey, Sophia Loren, and Meryl Streep among the most beautiful celebrities. In addition, two-thirds of the men surveyed said that they would rather their significant others did not have plastic surgery. And, as a HuffPost commenter said in a discussion about beauty: "Even physically beautiful women who are too concerned with their looks come off as insecure and therefore somehow unattractive."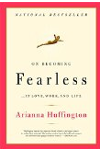 More About this Book
On Becoming Fearless...in Love, Work, and Life
Observing that her own teenage daughters were beginning to experience some of the same fears that had once burdened her--how attractive am I? do people like me? do I dare speak up?--Arianna...
Continue Learning about Personality