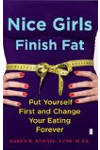 You have two major tasks: to cultivate positive self-care attitudes and habits that will keep ratcheting up your self-esteem and to break the link between stress and food. Each of these efforts on its own takes a humongous amount of patience and perseverance. To achieve both, you'll have to use all your brainpower, courage, motivation, energy, and single-mindedness. You know, the same qualities you put into being so darned nice and taking such good care of others. How fun - now you get to use them for your own good to maximize your own potential.
Think of all the occasions you've put yourself out for others, barreling right past nice straight into sainthood and martyrdom. You've proved your capability over and over in the herculean tasks you've taken on at work and for family, friends, and community. You, of all people, know how to set an agenda and get things done, keep pushing and pushing 'til you reach your goals - for others. Now it's time to use those same topnotch skills to turn the tables on nice and fat and give back to yourself.
You might find it easier to believe that you'll succeed if I break down the abilities you need to finish first. You probably don't realize how many of them you already have and use all the time. And, what you don't have, you'll learn. After all, you didn't get this far in life without being adaptive and resourceful. So now it's time to use some of that elbow grease on yourself!