We've been brought up in a society where putting yourself first is thought of as being "selfish". But what is the definition of "selfish"? It's caring only for yourself or being concerned primarily with only your own interests, needs, welfare, and so on, regardless of others. So ask yourself: how often are you so concerned with your own interests, needs and welfare that you have no regard for other people in your life? For some people, it may happen regularly; for most of us, it's something we probably do rarely, if at all.
So learning to put yourself first is about learning to change your vocabulary: it's not selfish, it's self-care. You've probably heard this before: if you don't take good care of yourself, you're not going to be well enough to take good care of others.
Not taking good care of yourself also negatively affects relationships in your life: when you feel like you're always putting others' needs before your own (even when you're the one choosing to do this), you're going to start feeling resentful.
So stop judging yourself when you're doing something for you. Change the way you talk to yourself about doing things for yourself: it's important that you take good care of yourself; doing this positive activity for yourself is going to benefit the people in your life as well as yourself; and so on.
Chances are you'll feel guilty when you first start doing more for yourself - this is natural, and usually comes from you judging yourself for taking time for yourself. So change those judgments. It's not that you should be doing something else; there will always be other things to do - cut yourself some slack, and take time out for yourself to relax and regenerate.
You have two major tasks: to cultivate positive self-care attitudes and habits that will keep ratcheting up your self-esteem and to break the link between stress and food. Each of these efforts on its own takes a humongous amount of patience and perseverance. To achieve both, you'll have to use all your brainpower, courage, motivation, energy, and single-mindedness. You know, the same qualities you put into being so darned nice and taking such good care of others. How fun - now you get to use them for your own good to maximize your own potential.
Think of all the occasions you've put yourself out for others, barreling right past nice straight into sainthood and martyrdom. You've proved your capability over and over in the herculean tasks you've taken on at work and for family, friends, and community. You, of all people, know how to set an agenda and get things done, keep pushing and pushing 'til you reach your goals - for others. Now it's time to use those same topnotch skills to turn the tables on nice and fat and give back to yourself.
You might find it easier to believe that you'll succeed if I break down the abilities you need to finish first. You probably don't realize how many of them you already have and use all the time. And, what you don't have, you'll learn. After all, you didn't get this far in life without being adaptive and resourceful. So now it's time to use some of that elbow grease on yourself!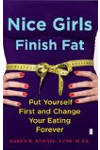 Continue Learning about Personality