In order to choose a good trainer, you should follow some of these recommendations:
Ask them who they are certified through? Is the certification nationally recognized—NASM, ACSM, NSCA, ACE, these are some of many.
Do they have a degree in the sport science field?
How much experience do they have?
Are they someone you would be comfortable working with?
All trainers should be willing to sit down and speak with you and within this conversation you should be able to get a feel if you would be comfortable working with them or not. Remember, if you are not comfortable working with them then you will not be interested in attending. Find someone who you believe will keep you motivated!
The International Council on Active Aging (ICAA) has put together a great guide for choosing a personal fitness trainer qualified to work with you. It consists of specific questions you can use to interview your potential trainer and the responses you are looking for.
Here is a list of general areas to consider:
Education. Your trainer must be certified by the American College of Sports Medicine, American Council on Exercise, or the National Strength and Conditioning Association. Ideally, she would also have a degree in exercise science or a related college degree.
Experience. Although everyone has to start somewhere, try to choose a trainer who has several years of experience in relationship to your specific goals. If you are a cyclist, you want someone who understands your sport; if you have specific medical conditions, you want a trainer who has had experience with other people with these conditions. Does the trainer have experience helping people in your age group maximize their performance? Does the trainer understand the strategies for injury prevention in the masters athlete?
Personality and professionalism. You will be working closely with your personal trainer, so does he seem like a person whose personality meshes with yours? Does he listen to you and what your goals are, or do you sense that he has his own agenda? Does he keep up with the latest technology? What does he expect of you?
Logistics. Does this trainer come to your particular gym, and will she come to your home or local park? What hours is she available? How does she prefer to be paid? Does she have liability insurance?
Take a trial run. Before committing to a package of training sessions, take a trial run. Evaluate how you feel working with this person. Does he listen to you? Are the workouts varied and in line with what you have read in this book? Did he give you hints about form and lifestyle as you worked out?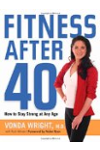 More About this Book
Fitness After 40: How to Stay Strong at Any Age
It's one of the undeniable facts of life. After we reach a certain age, our bodies change. No matter how fit we may have been at 20, we're very different people after 40. But growing older doesn't...
Continue Learning about Personal Trainers and Fitness