You should choose based on your needs and their specialties first. You don't want to hire a sports trainer to help you bodybuild. Next once you have narrowed it down ask the trainer if you can observe a session with the permission of a client and interview the trainer to see if they will be a good match for you.
Check his credentials and experience. Try at least three sessions with a trainer before deciding. The trainer has to be professional and match your personality. Certifications as a trainer must be updated and from a reputable institution, not just a weekend course.
The best way to choose a personal trainer is to get suggestions for good trainers from friends or colleagues. Then, ask that trainer for his or her references, and call one or two. While this may seem like a lot of work, remember that your health is in that trainer's hands—it's worth the effort to do a little research. Another place to start is with the director of personal training at the club you use—ask that individual to whom he would refer a good friend with your characteristics. If you do not like the way that person works with or teaches you, ask for another referral (in most city clubs, the fee for a personal trainer is thirty-five to eighty dollars an hour—more if they come to your home).
Do some research on your own by asking friends or family if they know of anyone in your area. Find someone that has a degree in the exercise science related field and holds either the CSCS and or NASM certification. Talk to them about your fitness goals, and most importantly, see if you connect.
I think you need to like your personal trainer in order to make progress. A friend of mine who lives in another state just started working with a trainer, but says the woman does not have a sense of humor. Laughter is important to my friend. She's not terribly interested in exercise and if she's not going to have fun, I know she'll quit very soon. Find someone you like and enjoy spending time with to get the most out of your training experience.
This gets a bit deeper but I want to also add that it is a good idea to get your trainers beliefs on life in general. The style in which your trainer motivates you will largely depend on their beliefs on life.
This is important because if their beliefs are not parallel to you then certain methods that they use may not be comfortable with you or cause you to compromise your beliefs. Personality and beliefs are not the same. Many times a trainer with a different personality is what most clients need.
However, if a trainer has a different outlook on life than a client it can impact negatively on the relationship. A trainer will and should have a deep emotional connection with their clients and it is very important to align yourself with someone that is going to compliment your life.
The International Council on Active Aging (ICAA) has put together a great guide for choosing a personal fitness trainer qualified to work with you. It consists of specific questions you can use to interview your potential trainer and the responses you are looking for.
Here is a list of general areas to consider:
Education. Your trainer must be certified by the American College of Sports Medicine, American Council on Exercise, or the National Strength and Conditioning Association. Ideally, she would also have a degree in exercise science or a related college degree.
Experience. Although everyone has to start somewhere, try to choose a trainer who has several years of experience in relationship to your specific goals. If you are a cyclist, you want someone who understands your sport; if you have specific medical conditions, you want a trainer who has had experience with other people with these conditions. Does the trainer have experience helping people in your age group maximize their performance? Does the trainer understand the strategies for injury prevention in the masters athlete?
Personality and professionalism. You will be working closely with your personal trainer, so does he seem like a person whose personality meshes with yours? Does he listen to you and what your goals are, or do you sense that he has his own agenda? Does he keep up with the latest technology? What does he expect of you?
Logistics. Does this trainer come to your particular gym, and will she come to your home or local park? What hours is she available? How does she prefer to be paid? Does she have liability insurance?
Take a trial run. Before committing to a package of training sessions, take a trial run. Evaluate how you feel working with this person. Does he listen to you? Are the workouts varied and in line with what you have read in this book? Did he give you hints about form and lifestyle as you worked out?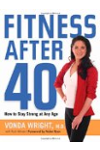 More About this Book
Fitness After 40: How to Stay Strong at Any Age
It's one of the undeniable facts of life. After we reach a certain age, our bodies change. No matter how fit we may have been at 20, we're very different people after 40. But growing older doesn't...
In order to choose a good trainer, you should follow some of these recommendations:
Ask them who they are certified through? Is the certification nationally recognized—NASM, ACSM, NSCA, ACE, these are some of many.
Do they have a degree in the sport science field?
How much experience do they have?
Are they someone you would be comfortable working with?
All trainers should be willing to sit down and speak with you and within this conversation you should be able to get a feel if you would be comfortable working with them or not. Remember, if you are not comfortable working with them then you will not be interested in attending. Find someone who you believe will keep you motivated!
Let's discuss the absolute necessities when hiring a Personal Fitness Trainer as well as some warning signs of what to avoid. If you make the choice to hire a trainer but more importantly to take the time to hire the right trainer for your personality and fitness goals it can have a huge impact on your life.
Education: Most consumers cannot differentiate between a qualified and an unqualified trainer. A starting point is to be sure your trainer is certified through a reputable fitness organization. There are literally hundreds of certifying bodies for Personal Training in The United States. The National Commission for Certifying Agencies (NCCA) is an accrediting body in our industry. Make sure that your trainer has at least one accredited certification such as NASM, NCCPT, ACSM, ACE, NSCA or AFAA. An exercise science or other related college degree is helpful but is not necessary. However, the more education your trainer has, the better your results may be.
Experience: I recommend that you choose a trainer with at least two years of industry experience. There is quite a bit to be said for on the job training. Experience accounts for the intangibles such as the ability to communicate better and knowing your limitations. Many novice trainers mistake working you too hard for a good workout. Experienced trainers understand how to properly pace you for injury prevention, exercise recovery and improving the overall enjoyment of the experience.
Intangibles: Does the trainer communicate with you or at you? Do they use words and terminology that you can easily understand or do you need a fitness dictionary to figure out what they are saying? Use your gut. Do you feel that this person is sincere and truly willing to aid you or that you are now going to fill that small gap in their schedule?
An Open Mind: This is a rapidly expanding field. Fitness, health, weight management and performance sciences are changing every day. Does your trainer evolve as well? Or have they continued to do the same thing over and over. Ask your potential trainer the last continuing education course they attended or if the facility where they are employed provides continuing education.
Full Time, Career Minded Individual: Is this (Training) what your trainer does for a living? Or is it a part time proposition? Chances are the trainer is not as skilled doing part time work because they are spending the majority of their time learning their primary craft.
Just like any service industry, a variety of professionals are out there to choose from. Whether you're researching trainers online or speaking with ones in your facility, there are some things that definitely should be considered before committing to a program.
Education: look for exercise related degrees (e.g. exercise science, exercise physiology, kinesiology) or nationally recognized certifications, preferably one from the National Academy of Sports Medicine. I know, I'm biased…but for good reason!
Experience: no disrespect to the "newbies" out there but experience counts for a lot in personal training; basically try not to be equivalent to someone's first client
Training Style: each trainer has his/her own focuses and preferences within their expertise, find one that is proficient in a style that matches up with your goals such as performance for strength sports, endurance sports, weight loss, flexibility, post rehabilitate work, etc.
Personality: this one is tough to evaluate on a website but not everyone is simply a good fit. Your trainer needs to be able to communicate well with you, educate you and motivate you. You will naturally respond better to some versus others so if there is a way to do a "try before you buy" session or consultation, consider that option.
Another real easy way to assess a lot of this is to simply watch trainers if you have the opportunity to do so. You'll get a good feel for how attentive they are, how they interact with their clients and what their proficiency is like. You can also spend some time with the facility's personal training manager discussing the staff's qualifications and finding the best fit. And lastly, few things beat a good referral! Ask your friends and family if they've had particular trainers that worked well for them. Then find out what about that experience was positive or negative.
You choose a personal trainer first by planning where you are going to do your workouts. Are you going to workout in your home gym? In your office gym? At a private or semi private studio? At a local YMCA or health club? Once you know where your workouts are going to take place you can then work on finding a trainer. There are several ways to do this. You can go to the NASM website and search for a NASM certified trainer in your area. You can inquire about personal training at the facility you are going to workout at or you can do a Google search. You can also consider options such as virtual coaching available through sharecare.com. Once you have narrowed down your options considering interviewing the prospective trainer and inquiring as to whether or not they do a free trial workout. You want to make sure you are comfortable with the person that you are entrusting your fitness goals with. You want to make sure if you have a prior injury or chronic illness the trainer you choose has experience or knowledge with your prior injuries or illness. You want to make sure your trainer keeps current on fitness knowledge, trends, etc. by continuing their education. You want to make sure that the trainer you are considering working with is certified by a national, accredited organization such as NASM (National Academy of Sports Medicine).
Choosing a trainer is a very personal decision. However there are a few key things that you should look for. First of all, you want to find someone that has the appropriate credentials to develop a sound training program for you. An NASM certified trainer is someone that is highly respected in the industry for his or her knowledge in this area. Second, you want to find someone that has some experience in developing training programs and working with clients to help them meet their fitness goals. Third, you want to find someone that is enthusiastic and motivated to partner with you in your quest to reach the next level of fitness. Last, look for someone that you like and get along with. After all, you will be spending time together and it should be enjoyable.
Choosing a personal trainer can be difficult. However, the personal trainer chooses you as much as you choose them. Most of the time, choosing a trainer goes off "feeling right." For example, if you are a swimmer and the trainer you are talking to is a basketball player, you may want to find someone else who knows more about where you are coming from. You will want a trainer who has/had similar fitness experiences either personally or client-based. Also, as a trainer, if during your meeting you don't have a connection or simply do not like the trainer, do not continue. You will both end up miserable. Shop around for the trainer that not only suits you and your personality best, but is certified, or has some type of College background in the health field. When someone says, "Oh, I've been working out for years," that does not give them credit. People "work out for years" with improper form all the time. CERTIFIED! CERTIFIED! CERTIFIED! Good luck!
First and foremost it is imperative that you make sure your trainer is nationally certified. Many training certifications are out there and can even be taken fully online. Protect yourself from injury and make sure they are certified with a national agency. NASM is a great place to start. Check out nasm.org to find help that suits you.
Secondly, if you're training in a facility or gym watch the trainer you're considering hiring. Ask yourself these questions:
Do they pay attention to their clients?
Do they talk/text during sessions?
Do they put ALL of their clients through the same workout?
Do they teach clients proper form for each exercise?
These will help you identify a seasoned professional. If your trainer has you and Joe Blow doing the exact same workout, that's not a real trainer. Your workout should be tailored to suit your goals as well as your strengths.
Also, request an initial meeting with a prospective trainer. Most offer these for free. Ask what their training philosophy is and how they think they can help you meet your specific goals. If they're planning on giving you nutrition advice, ask them if they are certified and/or trained to do so. Far too many trainers give advice from a magazine and that is not why you hire them.
Keep it personal for you. Make sure your personalities match up. Do you like a "boot camp" style trainer, or perhaps one with a softer edge? Think about what motivates you.
Lastly, look at your trainer. Do they have a phisyque that embodies how you view fitness and health? Are they so muscle bound they can't even touch their toes? Or do they struggle with a serious weight problem AND seem to do nothing about it? Some of the best trainers out there are those that have been in your shoes and have lost the weight or are trying to lose. So ask their story and see if they inspire you.
Take this checklist with you and get going on your goals!
Choosing a personal trainer should be like shopping for a pair of jeans. You have to make sure to have the perfect fit. Your trainer should compliment you in all ways. You should put more emphasis on character and not so much on just looks. You should make sure that your trainer has an adequate amount of knowledge pertaining to fitness. If you do not like the way your trainer's energy feels around you, you can always return him or her back and get another one just as you would with your jeans.
The trainer you choose should have a current certification through a nationally accredited agency such as the National Academy of Sports Medicine (NASM), the American College of Sports Medicine, American Council on Exercise, or the National Strength and Conditioning Association.
You will want to choose a trainer who specializes or has experience in the area you are interested in whether that area is injury rehabilitation, sports performance enhancement, or weight loss to name just a few. Your trainer should listen to you and be focused on your goals.
The trainer's schedule should work with your schedule. Do you want the trainer to come to you, or do you want to go to the trainer? Does the trainer participate in continuing education courses? Does the trainer have liability insurance? Be sure to ask for references and/or client testimonials.
I offer a complimentary initial consultation prior to working with any client. I have the person complete a medical questionnaire and perform an assessment using various tests such as the Overhead Squat Assessment. This way I know what the person is capable of with regard to a fitness program. If an injury is involved, I work closely with the person's doctor through rehabilitation and follow-on prevention exercises.
Finally, does the trainer's personality suit you? You definitely want to have a trainer that you are compatible with, and who can make your sessions enjoyable.
Great question! If you belong to a gym, wellness center or YMCA speak with the general manager or fitness director to provide you with a trainer recommendation that fits your personality and needs. Ask about experience, certifications (ACE, ASCM, NASM, NSCA, ISSA), education (B.A., M.S.), and training like hands-on workshops/clinical/specializations. In addition, a referral from a trusted friend, family member, or colleague can be another option to find a great trainer. I hope this helps and have fun!
A good personal trainer will have certain traits.
will be friendly and approachable
will be professional
will be excited about fitness and willing to help you to reach your goals
will be knowledgeable about fitness
will be flexible to your needs
As a consumer you need to realize that we are people too. So while we are willing to conform to you in any way that we can, we also have to live and make a living.
As personal trainers we all specialize in something different. We are all good at all aspects of fitness but some like certain things better. So if sport performance is your goal then you might want to choose a trainer who has the sport performance certification or was a former athlete...such as myself :-)
Continue Learning about Personal Trainers and Fitness