Trench mouth is a painful form of gum disease, caused by too much bacteria in the mouth. It causes the gums to swell and develop sores. People who brush and floss their teeth regularly don't usually develop this disease. But along with poor dental hygiene, some viruses, infections, smoking, poor nutrition and stress can raise a person's risk. Symptoms of trench mouth include bad breath, a bad taste in the mouth, sores between the teeth, fever, and grayish or bleeding gums. Treatment may include rinses and medication to relieve pain and other symptoms, antibiotics for more serious bacterial infections, and gum and tooth cleaning. The term "trench mouth" comes from World War I, where it was common to soldiers engaged in trench warfare.
Continue Learning about Periodontal Diseases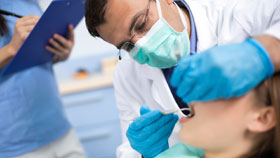 With periodontal disease, a serious disease of the gums, there can be bleeding of the gums, redness, inflammation, separation of the gum from the teeth, infections and sometimes loosened teeth. Left untreated, gum disease can even...
tually lead to loss of bone and teeth.
More