Root planing and scaling is also called deep cleaning. It is a treatment for gum disease (also called gingivitis, periodontitis, or periodontal disease), and is usually performed by a dentist, periodontist or a dental hygienist. If you need a deep cleaning to prevent further damage to your gums and teeth, your dental provider will use dental instruments to scrape tartar off of your teeth. To get rid of bacteria that cause gum disease, your provider will remove tartar from above and below your gum line. Some providers may use lasers to remove tartar, which can reduce swelling and bleeding that occur with regular planing and scaling methods. Medications may also be given to help treat gum disease, such as prescription antibiotic mouthwash or oral antibiotics. People with very deep pockets of tartar or advanced gum disease may need surgery.
Continue Learning about Periodontal Diseases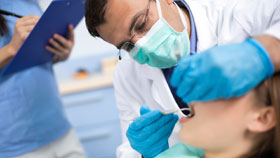 With periodontal disease, a serious disease of the gums, there can be bleeding of the gums, redness, inflammation, separation of the gum from the teeth, infections and sometimes loosened teeth. Left untreated, gum disease can even...
tually lead to loss of bone and teeth.
More