Dentists and periodontists use the term "pocket depth" to measure the crevice between your gums and teeth. Pocket depth is measured in millimeters by a dental professional. If it is greater than 3 millimeters, you may have periodontal disease. A procedure called scaling and planing, removes tartar buildup under gums and helps prevent pocket depth and disease from progressing further.
Continue Learning about Periodontal Diseases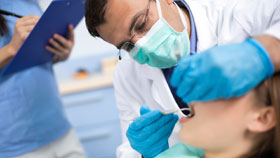 With periodontal disease, a serious disease of the gums, there can be bleeding of the gums, redness, inflammation, separation of the gum from the teeth, infections and sometimes loosened teeth. Left untreated, gum disease can even...
tually lead to loss of bone and teeth.
More