It is normal for gums to recede as we age. However, as we age, the nerves inside our teeth become smaller and less sensitive. By the time you feel pain from a cavity, it may be too late and you may lose your tooth. It can also lead to gum disease, which does not always cause pain until the advanced stages of the disease.
Gums naturally start to recede as we age. When gums recede, they pull away from your teeth, exposing the roots and putting them at greater risk for decay. Exposed tooth roots can also cause increased sensitivity. As gums recede, the risk of gingivitis (gum disease) also increases. Gingivitis is caused by bacteria, and can lead the gums to swell and/ or bleed. If left untreated, gingivitis can even lead to tooth loss. Brushing and flossing daily can help prevent gum disease even when gums begin to recede. If you are having difficulty with daily oral care for any reason, be sure to tell your dentist.
Continue Learning about Periodontal Diseases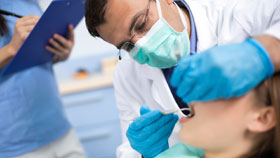 With periodontal disease, a serious disease of the gums, there can be bleeding of the gums, redness, inflammation, separation of the gum from the teeth, infections and sometimes loosened teeth. Left untreated, gum disease can even...
tually lead to loss of bone and teeth.
More