How does smoking cause gum disease?
Smoking weakens your body's infection fighters (your immune system). This makes it harder to fight off a gum infection. Once you have gum damage, smoking also makes it harder for your gums to heal.
What does this mean if you're a smoker?
You are two times more likely to have gum disease than a nonsmoker.
The more cigarettes you smoke, the greater your risk for gum disease.
The longer you smoke, the greater your risk for gum disease.
Treatments for gum disease may not work as well for people who smoke.
Tobacco use in any form -- cigarettes, pipes, and smokeless (spit) tobacco -- raises your risk for gum disease.
The presence of the CDC logo and CDC content on this page should not be construed to imply endorsement by the US Government of any commercial products or services, or to replace the advice of a medical professional. The mark "CDC" is licensed under authority of the PHS.
Studies show that smoking increases the risk of gum disease by 5 to 7 times, as compared to non-smoking. Smoking kills the beneficial bacteria present in our mouth, allowing the disease-causing bacteria to flourish. Furthermore, smoking cripples our immune system and shrinks the blood vessels, so the ability to heal is slowed down.
Smoking may be responsible for almost 75% of periodontal (gum) diseases among adults. Tobacco products damage your gum tissue by affecting the attachment of bone and soft tissue to your teeth. An example of the effect is receding gums. A receding gum line exposes the tooth roots and increases your risk of developing a sensitivity to hot and cold, or tooth decay in these unprotected areas.
Continue Learning about Periodontal Diseases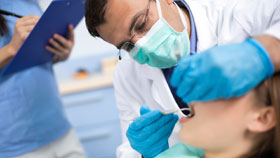 With periodontal disease, a serious disease of the gums, there can be bleeding of the gums, redness, inflammation, separation of the gum from the teeth, infections and sometimes loosened teeth. Left untreated, gum disease can even...
tually lead to loss of bone and teeth.
More