Gum recession can happen at any age. Dr. Maria Lopez Howell explains why treating gum recession early is the best way to keep you from losing your smile.
Continue Learning about Periodontal Diseases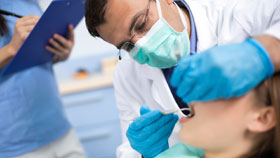 With periodontal disease, a serious disease of the gums, there can be bleeding of the gums, redness, inflammation, separation of the gum from the teeth, infections and sometimes loosened teeth. Left untreated, gum disease can even...
tually lead to loss of bone and teeth.
More