Primatene is the oldest asthma inhaler. It has been advertised on television and the radio for decades. The active ingredients of Primatene don't just affect the lungs, they stimulate the heart. They have both beta-2, which works on the lungs, and beta-1, which works on the heart, whereas the most common rescue inhaler we use, albuterol, is specific for the lungs. As urban pediatric allergists, this specific form of self-medication worries us a great deal.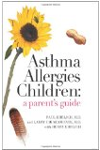 More About this Book
Asthma Allergies Children: A Parent's Guide
Asthma and allergies are at epidemic proportions. It doesn't have to be that way. Two experienced pediatric allergists tell everything a conscientious parent needs to know about these conditions,...
Continue Learning about Patient Education