By law, generic brands must have the same quality, purity, side effects, and ethicacy as the brand name drug. Watch this video to learn more from Dr. Randy P. Martin on comparing generic drugs to brand name versions.


When a drug's patent life is over (commonly 20 years after discovery, and six to eight years after it has been on the market), other companies can sell it. They can't sell it under the original brand name, but they can create generic forms of the drug that contain the same exact active ingredient. This usually cuts the drug's price to just a bit over what it costs to manufacture it. So get the cheaper generic version whenever one is available.

Generic drugs are well tested and usually just as effective as the original brand name drugs, as they're often identical in formulation. However, sometimes different fillers, coatings, or other non-active ingredients are used in generic drugs than were used in the brand names. In certain cases—especially if these differing non-active ingredients may change the rate of the drug's absorption or some other factor—this may lead some physicians to believe that a generic drug does not work just as effectively in certain or all patients as the brand-name version.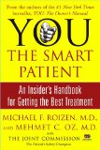 Continue Learning about Patient Education