The latissimus dorsi muscle originates on the lower thoracic and lumbar vertebrae as well as iliac crest. It attaches to the inferior angle of the scapula as it travels up to insert on the humerus. Along with contributing to excessive internal rotation of the arm or scapular abduction, the latissimus dorsi also contributes to extension problems when tight or when the abdominals are weak.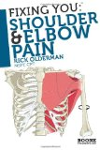 Located at the low back, the latissimus dorsi muscle runs from the low back and hips to the top of the upper arm (humerus). It helps internally rotate the arm, extend the shoulder, and bring the upper arm down to the side.
Lats is the abbreviated term for the latissimus dorsi, a large muscle located on the back side of the body. The lats get their name based on their location, which is the lateral (side) and dorsal (back) part of the human body. The lats attach to the pelvis, lower and mid back, and inside of the upper arm. They are responsible for adducting the shoulder, which brings the arms closer to the sides of the body, extending the shoulder which brings the arms behind the body, and internally rotating the shoulder which turns the arms in towards the body. The lats are the only upper-body muscles that connect to the pelvis, effectively creating a muscular link between the the upper and lower body.
Continue Learning about Parts of the Muscular System