The quadriceps -- a giant set of four muscles (thus the name quads) in the front of the legs -- are powerful knee protectors. They also cross two joints -- the hip and knee -- and are responsible for some hip flexion and all knee extension. They also are key in absorbing the shock of our body weight across the knee and for keeping our kneecaps aligned down the center of the knee.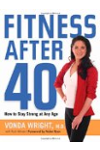 More About this Book
Fitness After 40: How to Stay Strong at Any Age
It's one of the undeniable facts of life. After we reach a certain age, our bodies change. No matter how fit we may have been at 20, we're very different people after 40. But growing older doesn't...
Located at the front of the thigh, the quadriceps muscles run from the hips down to the bottom of the thigh (femur) and insert into the knee cap (patella). They straighten (extend) the knee and help bend (flex) the hip.
Continue Learning about Parts of the Muscular System