The muscles of the upper extremities are the following:
Latissimus dorsi. The big V-shaped back muscles.
Rotator cuff. Four small muscles that provide shoulder stability by keeping the arm bone (the humerus) centered in the socket. The rotator cuff is the key to shoulder health.
Biceps. The "guns" in the front of your upper arm.
Triceps. Gun balancers in the back of your upper arm.
Deltoid muscles. The shoulder caps.
Wrist extensors. Muscles in the back of the lower arm.
Wrist flexors. Muscles in the front of the lower arm.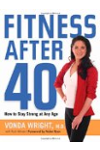 More About this Book
Fitness After 40: How to Stay Strong at Any Age
It's one of the undeniable facts of life. After we reach a certain age, our bodies change. No matter how fit we may have been at 20, we're very different people after 40. But growing older doesn't...
Continue Learning about Parts of the Muscular System