The people most at risk for lower back pain are:
people who perform long periods of sitting or standing;
people in poor physical condition or who have a poor exercise regimen;
people who do heavy labor.


These folks are less likely to recover quickly from lower back pain because their lifestyle exacerbates the pain-or their bodies aren't equipped to recover. They may also have overused or underdeveloped muscles in their lower back. In that case, doing anything from getting off the couch to stepping into a car may be enough to trigger excruciating tension on your lower back muscles. That's the strain that causes the pain.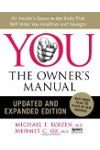 Continue Learning about Parts of the Muscular System