The effects of Parkinson's disease on sleep are becoming more understood. One problem is getting comfortable, because it can be harder to roll over in bed. The sleep of people with Parkinson's may be disrupted by having to go to the bathroom more often. Restless legs syndrome can be caused by Parkinson's disease, although it doesn't mean that a person experiencing this must have Parkinson's.

Some people with Parkinson's will have very vivid dreams, will act out dreams and possibly injure themselves, and are restless sleepers. Yelling while sleeping can be a result of Parkinson's disease, and people may yell in their sleep long before they are diagnosed.







If you have Parkinson's disease and tend to fall asleep during a particular activity, tell your doctor. You might be experiencing sleep attacks, which are different from normal sleepiness. Also, keep track of any hallucinations or delusions you might be experiencing. Medications can sometimes cause nocturnal wanderings, hallucinations, delusions, or other problems. Adjusting your dosage of a particular medication or adding a new prescription might help with those symptoms. If your sleep is still disturbed even after following your doctor's recommendations about the timing of your medication doses, consider getting an examination by a sleep specialist trained in managing patients with neurologic disorders.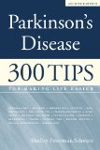 Continue Learning about Parkinson's Disease