If you are concerned about your loved one driving safely, and it is difficult for you to take the car keys away or deny the person the right to drive, talk with your loved one's doctor. Often, a trusted doctor can convince their patient to quit driving when a loved one cannot.

Some doctors may be reluctant to restrict driving privileges. In that case, the Department of Motor Vehicles (DMV) may be your ally. If the person with Parkinson's disease applies for a handicapped parking permit or for disabled plates, she will be required to take a driver's test; the DMV may then revoke the person's driving privileges.

A No-Start Battery Switch provides peace of mind. Convincing a loved one that he is unsafe to drive is often a challenging task. By attaching this device to the car battery, you can, with the turn of a knob, disable the car and make it impossible to start. When you want to start the car, simply turn the knob in the opposite direction to enable the battery again. Designed to affect starting only, it will not affect the clock, the radio, or the car's computer settings.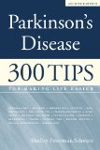 Continue Learning about Parkinson's Disease