If you're helping someone with Parkinson's disease to walk, follow these tips:
Ask first, "Would you like help?" Never grab an arm or try to help a person without permission. Let the person with Parkinson's disease tell you how to help her. Remember, you are supplying balance control not physical support. Don't try to pull the person along or lift her.
Before you start walking, count down from the number five to the number one and on one, begin walking. Let the person whom you are assisting set the pace. When appropriate, announce upcoming changes in the terrain ("There's a step down.")
To help a person with Parkinson's disease walk, stand in front of him and hold his hands. When you walk backwards, gently guide him forward. Give verbal cues like "Let's walk now."
If the person with Parkinson's disease wears bifocals, he may need extra help when using stairs. Going down stairs is often more difficult than walking up. When we go upstairs, we usually look through the top (or long-distance range) part of the lens, but when we go downstairs, we look down (through the near-distance or reading part of the lens). Looking down, our feet aren't close enough for our eyes to focus on through the reading part of the bifocal. No matter which direction you are going—up or down stairs—watch carefully.
When assisting someone walking up or down stairs, take one stair at a time. Let the person you are assisting hold onto a handrail, if one is available. Make sure she places each foot completely on each stair. When going up stairs, have the person lead with the stronger foot. When going down stairs, have the person lead with the weaker foot. Stand in front of the person when descending stairs, and behind the person when ascending the stairs.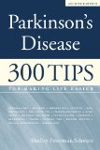 Continue Learning about Parkinson's Disease