If you're speaking to someone with has Parkinson's disease, keep these tips in mind:
Hold conversations at eye level and make eye contact during conversation. Sit down if the person with Parkinson's disease is sitting, and assume a relaxed posture to convey your patience and willingness to listen. Speak clearly and calmly and allow enough time for a thorough exchange of words. Be patient—most people with Parkinson's disease who have difficulty speaking have no cognitive difficulty (meaning their minds are just fine); instead, their muscles and nerves are preventing them from speaking as clearly as they did in the past.
Avoid finishing sentences for someone with Parkinson's disease unless he asks for your help finding a word or phrase. Reinforce instances of good, intelligible speech. Give feedback such as a nod of the head or a "yes" or "I see" to indicate that you understand what he is saying. However, don't say you understand when you really do not. Repeat any part of the message you did understand and ask for clarification or repetition of the rest. Asking for a repetition of a phrase can result in clearer pronunciation the second time around.
Ask the person with Parkinson's disease to restate a phrase or sentence using different words. If you cannot understand what was said, ask for clarification; if you pretend to understand to save time, misunderstandings can result. In addition, the person with Parkinson's disease may not make as much of an effort to speak clearly if she thinks you understand.
Ask questions that require yes/no answers. For example, instead of asking, "What would you like to eat?" ask, "Would you like a turkey sandwich?" Or, ask questions that will elicit one-word, or short-phrased responses. Ask, "What kind of meat would you like on your sandwich?" instead of "What do you want for lunch?" Or, offer a few choices when you ask a question: "Would you like soup or a sandwich for lunch? Would you like tomato soup or chicken noodle soup?" Use some gentle prompts before beginning a new topic of conversation. Say, for example, "Let's talk about your grandchildren." When you change the subject, use similar cues ("Let's talk about the Super Bowl now").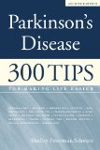 Continue Learning about Parkinson's Disease