Why is it wrong to teach children that pleasure is bad?
We teach our children that pleasure and joy are bad and will send us to hell, while we can attain heaven by living a life of suffering! We teach our children that if one is responsible and takes care of themselves and their needs, they are "selfish." And most bizarre and nefarious of all, we teach our children that if they love themselves, they are evil and narcissistic. Instead of teaching our children that they were born pure and unconditionally loved as a reflection of God, we teach them that they were born in sin. We also teach them that the only hope of God ever loving them again and accepting them back "home" is to do what they are told to do, sometimes by people whose lives are also full of pain and suffering. It seems to me that these are sad ways that we have used (albeit unconsciously and from a well-meaning place) to control our children. Fortunately they are recognizing the simple truth in the song that says, "They can't even run their own lives, I'll be damned if they'll run mine!"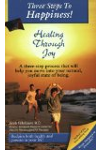 More About this Book
Three Steps to Happiness! Healing Through Joy
Happiness is our natural state of being. It is who we are. This happiness is obvious when you look at little children before they take on society's beliefs. Their natural state is to feel all of...
Continue Learning about Parenting
Parenting is both a science and art, requiring a mother or father to understand important issues that affect their children including safety, health, discipline, communication and play.