To help children feel comfortable talking about goals, we parents need to share our own aspirations. So take time to share a few of your dreams and wishes and the resolution you plan to set for yourself, like losing those extra pounds, learning to text, finally reading and finishing Moby Dick, taking that gourmet cooking class. Whatever!

The secret is to purposefully model goal-setting when your kids can watch or listen. In fact, modeling is such a simple way to learn the skill. All you need to remember is the formula for goal-setting -- I will+ what + when -- and then teach it to your kids.

Goal Formula: I will + what + when. Goals usually start with the words I will and have two parts: a what and a when. The what explains what you want to accomplish. The when tells when you intend to accomplish it.

Then whenever an appropriate moment arises, put your goal into the language of the Goal Formula and model it so that you child sees formula in operation. For instance:

You walk in to the laundry room and find it piled high with dirty laundry. (No surprise in my house). It's a perfect opportunity to model the formula. Tell what you hope to do, using goal language to your child: "I will get these clothes washed and dried by six o'clock" (what = washing and drying the clothes + when = by six o'clock). The key is that your kid has now overheard you saying your plan. Studies find that kids are far more likely to adopt a new habit or skill if they saw it in action (instead of via the lecture or the worksheet).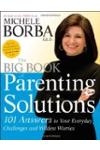 Continue Learning about Parenting