The biggest parenting mistake I see is inconsistency. You try "time out" on Tuesday but let that hitting slide on Wednesday. You ignore the whine at 2 o'clock but yell about it at 3 p.m. You try giving that small portion of peas on Thursday and give up by Friday. I guarantee you won't get the results because you are inconsistent with your response. Kids need consistency -- they need to know what is expected. Your consistent response will make the difference.

Kid behaviors can be changed, but that change takes consistent parenting effort and a bit of time. In fact, learning any new habit (and stopping the old) usually takes a minimum of 21 days.

So stick consistency to your plan for at least 21 days. You should see a gradual diminishment of the old inappropriate behavior as the new more appropriate behavior kicks in. Also, pass your plan on to at least one other caregiver. You always get better results if you tag team (with your parenting partner or coach or relative or girlfriend or teacher).

And if you do not get the change or you see an increase in the behavior, it's time to get help!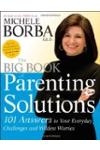 Continue Learning about Parenting