As we work through the endless challenges of parenting, there is no substitute for building a little tribe of family and friends around us. When I was growing up, raising children was always the task of an extended family that reached far beyond blood ties. From the time I became a mother in 1989 until my own mother's death in 2000, she was devotedly involved in the raising of my daughters. And my sister has been like a second mother to them. Unfortunately, the extended family is now increasingly considered an Old World curiosity, like horse-drawn wagons and dinner conversation. When, as a child, I ventured onto the streets of my neighborhood in Athens, I was never far from home because I had learned from my earliest experiences that every home was open to me and any woman on the block would mother me as surely as she would her own child -- with a bandage, a spinach pie, a scolding, or a hug. It's hard to re-create that experience in America today, but we need to conjure up its spirit.
I learn a lot from talking with other mothers. It gives me perspective and the strength we get only when we're not alone. This has become all the more important to me since my mother's death, because being in her orbit made it much harder to cling to my fears. Now the online community we have created on the Huffington Post is a place where parents can put politics aside and share their experiences.
As Huffington Post commenter MJ Reynolds writes, "Talking with other parents and sharing our stories always helps me. I find that I am more understanding of the 'mistakes' made by friends or relatives than of my own. Being able to sit with friends and commiserate and laugh over our child's picky eating or refusal to wear shirts unless the neck tag is cut completely off helps me realize that we are more alike than different."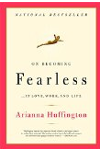 More About this Book
On Becoming Fearless...in Love, Work, and Life
Observing that her own teenage daughters were beginning to experience some of the same fears that had once burdened her--how attractive am I? do people like me? do I dare speak up?--Arianna...
Continue Learning about Parenting