Having a consistent homework time helps your child establish valuable homework habits. Should you make your child do his homework immediately after coming home from school? While some parents may think it's best to wait until after dinner, I think kids are better off doing it within an hour after they get home from school. It's fine to let your child take 30 or 40 minutes to recharge, run around with the dog, have a snack, or chat with you. If you delay homework until after dinner, your child—and you—may be too tired to complete an assignment. If he's having difficulty understanding something, he'll probably be cranky and less willing to stay on task, leading to stress that can disrupt his sleep.
If the only time available to do homework is after dinner and grades aren't suffering, work with that. But if every night leads to a battle, or grades have dropped, you might need to look at your child's schedule. It might be time to cut back on extracurricular activities that interfere with getting his work done.
Occasionally letting your child finish his homework in the morning before school—especially after a late night of studying—is something I'd discourage, but it's preferred over not getting it done at all. I'd rather mornings be focused on filling her belly for the day ahead instead of finishing work that should have been completed the night before. If playing homework catch-up is a familiar scenario, you might need to look at a few things:
Is the amount of homework appropriate?
Is your child struggling with the level of work assigned?
Is your child leaving assignments until the last minute?
From Good Kids, Bad Habits: The RealAge Guide to Raising Healthy Children by Jennifer Trachtenberg.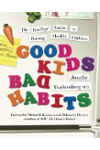 Continue Learning about Parenting