Dinnertime is a great time to have family discussions with your children on topics that can affect everyone in your household. It's not the best time, however, to discuss a private or sensitive issue that is close to your child's heart, especially if your child is shy or less inclined to air his difficulties in front of other siblings.
I recommend that parents regularly set dates with their children. Schedule one-on-one time away from home. This can be something as simple as going for a walk around the block or having lunch together. Whatever activity you do, this time will give you a chance to connect with your child.
Sometimes it's easier to bring up tough or embarrassing topics when you and your child are not actually face-to-face. Try tackling more difficult conversations in situations where direct eye contact is not possible like while driving in the car, or walking side-by-side.
I know it's really hard to refrain from offering judgments or unsolicited advice while talking with your kids. But, you want your child to feel like she can approach you with anything --even something that she thinks may be shocking to you. So, you should probably start practicing your poker face. If you overreact, if you seem too judgmental, or if you push your opinion, the door may shut on future conversations about important issues.
From Good Kids, Bad Habits: The RealAge Guide to Raising Healthy Children by Jennifer Trachtenberg.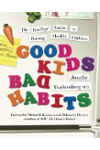 Continue Learning about Parenting