Your sitters may not be aware of these basic precautions. Be sure to give them a copy or post these on the refrigerator.
Never leave young children alone in the house or outside by themselves, even if it's just for a minute. If children are under age 4, stay in the same room with them at all times.
Never let a young child near water (bathtub, swimming pool, even the toilet) without your supervision. It only takes a few inches of water and a few unsupervised moments for an infant or toddler to drown.
Never give any medication to a child without the being first instructed by a parent.
Never give children under 4 years of age nuts, popcorn, raw carrots, hard candy, or other small, hard foods that can be choked on. Always cut up hot dogs and grapes into small pieces before giving to young kids.
Never let a child play with plastic bags or balloons (they could suffocate), or let a young child play with small toys that could be put into the mouth and choked on.
Never let children play on the stairs, near open windows or hot stoves, and around electrical outlets.
From Good Kids, Bad Habits: The RealAge Guide to Raising Healthy Children by Jennifer Trachtenberg.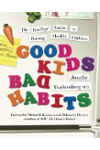 Continue Learning about Parenting