Think about all of the things that your child's teacher won't be able to find listed in your son or daughter's school record. Your child is so much more than test scores and subject grades. In order to best teach your child, the teacher should know some of the types of things in the following list:
Child's name and birth date
Is your child socially reserved or outgoing?
Does your child have any special talents or interests?
What can you tell your child's teacher about his or her learning style? Is your child a visual learner? Does he or she learn best by doing?
Is your child easily distracted by others? Will he or she need to have a quiet spot to take tests, or a seat at the front of the class in order to perform at his or her best?
Is your child an independent learner, or does he or she learn well in groups?
Has your child been diagnosed with any health conditions that may affect his or her academic performance, such as ADHD or dyslexia? Any that may require frequent or extended absences?
What subjects is your child most interested in?
What subjects does your child need the most help with?
Are there any family/social situations that might have an impact on your child's school performance, such as a separation or divorce, a new baby in the house, bullying?
From Good Kids, Bad Habits: The RealAge Guide to Raising Healthy Children by Jennifer Trachtenberg.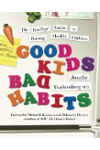 Continue Learning about Parenting