When your child begins a new sport program, think about all of the things that your child's coach/instructor doesn't yet know about your child. In order to keep your child safe and maximize his enjoyment, the coach should know the things found in the following list:
Child's name and birth date
Results of your child's sports physical, to determine your child's overall health and readiness
Your expectations -- is this strictly for enjoyment or a part of a long-term plan to achieve a high level of competence?
Any health limitations your child might have, such as asthma or epilepsy
Injuries your child has had that might impede performance
Any allergies your child has
Child's doctors' names and contact information
Emergency contact information of parents and another responsible adult, in case parents can't be reached
Insurance provider and policy number
Other commitments your child has that might interfere with practices or games
From Good Kids, Bad Habits: The RealAge Guide to Raising Healthy Children by Jennifer Trachtenberg.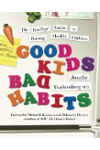 Continue Learning about Parenting