A babysitter should know the following things about your child:
Your child's routine, including mealtime, bath time and bedtime
Any special health information about your child, including allergies and medication needs
Your child's fears and phobias
Favorite and forbidden foods
Your general house rules, including child safety issues
Rules for the babysitter, such as no non-emergency phone calls, no visitors, food to eat and whether or not they can leave the home
Emergency contact details and where you'll be (will you have a cell phone?)
Emergency phone numbers such as Poison Control (1-800-222-1222) and 911
Phone number for relatives, friends and neighbors in case you can't be reached
Child's doctors' names and contact information
Insurance provider and policy
Preferred hospital in case of emergency
Where smoke detectors and fire extinguishers are located, and all exits from home in case of fire
Where security system/alarms are located and how to work them
Where door keys are located in case a child gets locked inside a room
Where your first aid kit is kept
From Good Kids, Bad Habits: The RealAge Guide to Raising Healthy Children by Jennifer Trachtenberg.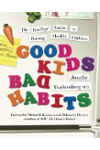 You should give your child's babysitter the following information:
Personal information
your child's full name and date of birth (you'll need this information for every child in the house)
your full home address, including cross streets (in case a call needs to be made to 911 or other emergency responders)
Medical information
medical conditions and past surgeries (from childbirth on, including any hospital stays, such as the neonatal intensive care unit as an infant)
allergies
medications taken
insurance cards
Physician information
pediatrician's name, address and phone numbers
dentist's name, address and phone numbers
pediatric emergency room (ER) or hospital where you'd want your child to be taken or transferred if he or she requires additional medical care after being treated and stabilized in the pediatric ER
Contact information
all phone numbers to reach you, including the name and number of your hotel and anyone else at your location who could get in contact with you
phone numbers of your closest relatives
phone numbers and address of your nearest reliable neighbor who agrees to help (leave a second in-town person as backup)
poison control center number
Permission to treat form
​​​This form gives a doctor permission to provide medical treatment when your child is in someone else's care, whether it's a babysitter or a relative such as a grandparent. If a child is legally considered a minor, the ER must regard the child as such. Requirements for such authorizations may vary by state and/or facilities, so be sure to check what is required in yours.
This checklist is intended as a guide only. Additional information may be necessary to address your specific healthcare circumstances.
Continue Learning about Parenting